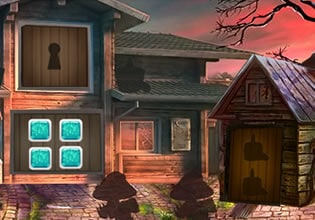 Happy Giraffe Escape
The village here which was peaceful but can be terrible at times thanks to the worst weather they receive during monsoon, is really quite loving to animals. There were these giraffes even which would joyously pass through the place and even when these animals are quite tall and possibly dangerous, they just let them roam around for they know their temperament and they can be gentle.
Richard was one of the villagers there and he knows quite a lot about the place here, that's because he had moved there long ago and he is already accustomed to life there. That's why when one day he found one of those young giraffes and it was stuck inside a house there, he immediately sprung to help for that thing needs a guiding hand! Escape players, Richard here is going to rescue a probably distressed giraffe and it could hurt him while he gets it out. The door is locked now and the animal is starting to make some noise in there. Okay then will you help Richard here so he can do this quickly and safely for both him and the young giraffe?
Happy Giraffe Escape is another new point and click animal rescue escape game made by Games 4 King.
Other games by -
Walkthrough video for Happy Giraffe Escape