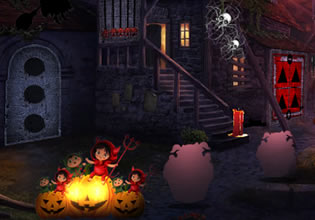 Handsome Witch Girl Escape
The witch girl is the most powerful being in this Asian town, she becomes even more powerful on the eve of Halloween, that's why that evening of Halloween Jake was very confused, for when he passed by a house there he found the witch girl trapped and needs help!
Jake was confused for this time was suppose to be the time she is most powerful, but why can't she get herself out there? Jake remembered how the witch helped him countless of times as well as helping the townsfolk, so that is enough for him to help her there whatever the reason was why she can't get herself out using her magic. Escape players, Jake is not sure if he can free the witch though, would you like to help him then so that she can be freed?
Handsome Witch Girl Escape is the newest point-and-click house rescue escape game from Games 4 King.
Other games by -
Walkthrough video for Handsome Witch Girl Escape