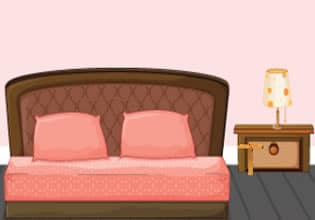 Handsome Old Man House Escape
Olivia's husband is a pretty guy even though he is old, with that she really stuck with him and on top of that, he was really a good guy and a kind one too. Olivia that day prepared lunch, for her husband was coming home from working at the beach all morning, there was this new guy in training and he will be taking the day temporarily as her husband will spend the rest of the day with her, but as he arrived at the house though there seems to be some weird problem, for he could no longer get inside the house for the door seems to be jammed!
Olivia heard him call from the outside and across the room, she went and that's when she realized the problem. Okay, this was pretty weird for this happened for the first time and there was no explanation. But Olivia got this for the home improvement tools was in her side somewhere and also that special key. Escape players, will you help Olivia here fix this weird problem by first finding those items so not only she can let her husband in but also solve this mysterious thing?
Handsome Old Man House Escape is a brand new point-and-click indoor escape game released by Games 2 Escape.
Other games by -
Walkthrough video for Handsome Old Man House Escape