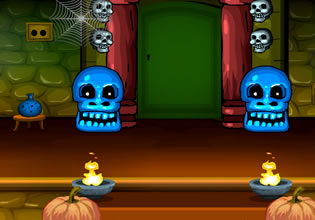 Halloween Witch Door Escape (Games 4 Escape)
Halloween Witch Door Escape is a brand new point and click scary indoor escape game from Games 4 Escape. Enjoy with us everyone and do so daily!
It's Halloween and Harvey decided he'll try something new, and that is to check-out the scary dark witch house which nobody would ever dare try venturing into. Rumor has it that there is a witch living there and anyone who enters will be faced with a challenge and it's up to him or her if their skills are up for the escape. Harvey is now in the dark rooms of the witch house and fortunately, there is no sign of that witch everybody is talking about, but his challenge is up for him there now and he must get through it.
Escape players, Harvey doesn't want to be consumed by the spookiness of Halloween here, that's why he needs to bring-out the best of his skills and logic so he can escape safely as well as quickly. Care to join in on the escape adventure with Harvey and see if you can also make it out of the witch house? Go ahead then and hurry now for that witch might appear and that's not good. Have fun everyone!