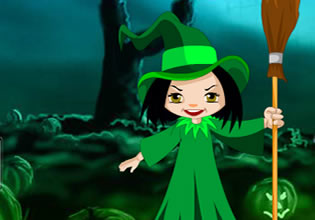 Halloween Witch Candy Bowl Escape
While everyone else is busy avoiding the witch of the forest, you're there helping her out. You discovered her presence by accident after you stepped on a fallen tree not knowing she was under it. You heard her cry and immediately looked for her under there. She hurt her foot after failing her flying practice. Unknown to most people, witches need to spend a lot of time flying to perfect it in any weather condition. But the witch you met was in a hurry to fly. It seemed like in her batch, she was the last to know how to fly. And she hated it. She wanted to explore the skies with her friends and be even better at it. Yet she acted quickly out of jealousy. You spent a lot of time helping her heal her foot. It turned out her charms aren't perfect either.
After that incident, she remained your friend. And you remained that weird girl who enjoyed going through the dark forest where a witch lives. She likes candies so you find time to give her some every week. But since it's Halloween, the witch wants more candy for herself and her friends. Help her find the candies by playing Halloween Witch Candy Bowl Escape outdoor escape game by Games 2 Rule. Good luck.