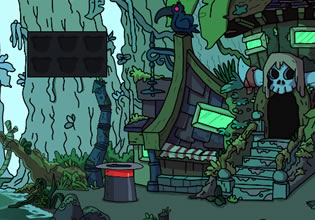 Halloween Treasure Trove Escape
Darren really needs to get this treasure hunt of his done, for it is Halloween and this needs to be memorable and monumental. For years Darren have been trying to find this old pirate treasure and he had been to many dives and caves just to find it. But that day it seems that his wishes will now come true, for he found this hidden cave and inside it was a medieval ship!
This could be it! Darren's search might finally end. But there is only one way to find-out if it would really end, and that is to check this old ship if the lost treasure is there. Escape players, Darren needs a partner here now for there could be some traps here and tough challenges which are built to keep the treasure hidden. Will you be able to help in clue-finding here which might lead to the discovery of the treasure?
Halloween Treasure Trove Escape is a brand new point-and-click item retrieval escape game released by Games 2 Jolly.
Other games by -
Walkthrough video for Halloween Treasure Trove Escape