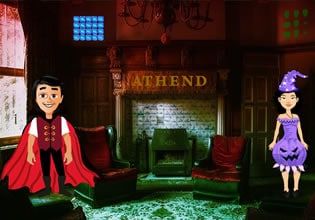 Halloween Skull House 23
Jack and Luna was able to give the necklace that they received from the mall to this cat in the forest, but then their mission seems to be not over yet for right-now this cat requests of their assistance once more. It seems that these tasks have gotten pretty long now and Luna even was more like him now rather than a damsel in distress. Well they need to get this done so they can both finally return home.
The cat requests of them to help someone in the same area here. The cat thought this guy can help them in getting home but as long as they help him first. Jack and Luna broke a sigh for well after hearing that they knew they weren't done yet. Well then escape players, it seems that you are not done here as well, will you help Jack and Luna here on their new task in this dark place so they can get on with this quickly?
Halloween Skull House 23 is a brand new point and click area escape game from WoW Escape. This game is a continuation of the previous one as its sequel, and is a part of the first game as the start of the series.
Other games by -
Walkthrough video for Halloween Skull House 23