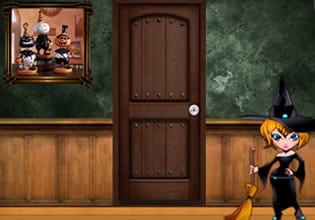 Halloween Room Escape 25
Portia was able to escape as well! Guess the witch slipped-up this time and that really got her very frustrated. She immediately left and aims to terrorize her next victim big-time. The next victim was Jonah who was decorating his home for Halloween alone! That is the preference of the witch, and as Jonah was decorating the rooms, the witch appeared and immediately gave the challenge to him!
Jonah was knocked-off balance for the witch appeared with a force! He definitely felt her anger, from then she made the Halloween decors in Jonah's place into her challenges. Some of the decors there like Frankenstein and Dracula have become part of her obstacles. Jonah somehow knew about this witch, but he didn't think it was actually real and he disregarded it. Now he is trapped in there and the only way to escape is to defeat the witch in her own game. Escape players, this time you will be joining Jonah in this escape, will you be able to help him get through with the witch here before she becomes extremely angry? Not that she isn't already.
Halloween Room Escape 25 is a brand new point and click indoor escape game from Amgel Escape. This game is a continuation of the previous one as its sequel, and is a part of the first game as the start of the series.
Other games by -
Walkthrough video for Halloween Room Escape 25