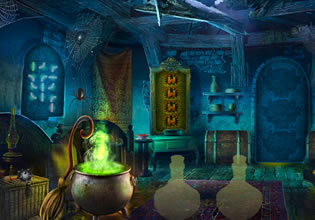 Halloween Magic Man Escape
People are scared of this magic man, well that's understandable for this man does not only possesses real magic, but he is also quite sinister and people should really stay away from him. But nothing can stop him from entering villages though and whenever he does, people just don't disrespect him and pretty much definitely stays away. But that Halloween day as he enters this village, he somehow got trapped in some house there and now he couldn't get out!
The people might have done something here, for the magic man is a powerful magician that he can't be simply contained, it was kind of funny even but as his servant, Igor must not laugh and he must help his master even. Escape players, Igor has no choice but to free his master there, but because he is kind of dumb, will you help him get his master the magic man free before he becomes even more agitated?
Halloween Magic Man Escape is a brand new point-and-click rescue escape game released by Games 4 King.
Other games by -
Walkthrough video for Halloween Magic Man Escape