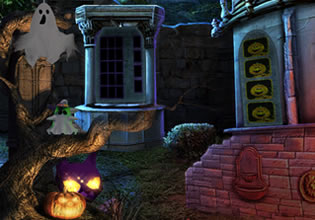 Halloween Magic Cat Escape
Travis will now go to the house of the magic cat for it is Halloween, she is in-charge of protecting the place so that no darkness would come to this settlement where they all live as the event passes. But as Travis arrives at the cat's place, he witnessed that bad luck is already starting to creep into this place, for he found the magic cat trapped!
Upon seeing the situation, Travis didn't know what to do. But he stayed calm and tried his best to keep himself composed as he thinks. Escape players, Travis is determined to free the magic cat there for they need her assistance and powers. Will you be able to help too so that she can be freed and Travis as well as the rest of the folks who knows about this situation can breathe a sigh of relief?
Halloween Magic Cat Escape is a brand new point-and-click rescue escape game released by Games 4 King.
Other games by -
Walkthrough video for Halloween Magic Cat Escape