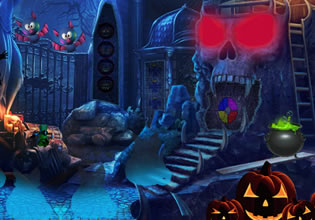 Halloween Mage Escape
The mage now visits the village here to bless it as Halloween comes to pass. Dark forces coming from the forest are in play whenever the said day comes every year, and people must be ready especially the mage. Even though he is also a form of dark force, he uses his powers to repel the evil however and actually do good to the village there. The night draws closer and the mage shall now begin, but he needs a little help for he can't perform his ritual while this issue is standing in the way.
As a villager there, you just discovered that the mage is trapped in one of the cell-blocks in the community! Why was he there? The mage was also confused, that might mean a bad thing for as such could be the work of those dark forces! The ritual must commence now but escape players, you need to help here first for at the moment the mage is trapped. So will you be able to get him out and he can begin?
Halloween Mage Escape is the newest point-and-click rescue escape game from Games 4 King.
Other games by -
Walkthrough video for Halloween Mage Escape