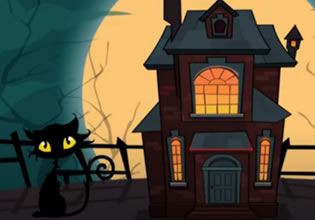 Halloween Doberman Escape
Even when Max is very much hesitating of doing this task which was to rescue one of the spirits of Halloween which was a doberman, he still needs to do this for the balance of natures will not be in play if one of the spirits of the occasions of Earth are not as free as a bird. Even when he has extensive knowledge of these things, he is still confused why would a spirit be trapped in some man-made cage and such a mortal like him is one of the only hopes for this doberman. Well, whatever the reason is he must go to keep things in sync.
The main thing that is making Max hesitate on this is the fact that the area where the doberman was is a scary place, there are monsters of the night there and even when he didn't actually see them but only heard from rumors, he still take it as legit warnings for he knows they are real. Escape players, want to help Max here as he rescues this thing that only looks like a dog?
Halloween Doberman Escape is the newest point-and-click rescue escape game from Games 2 Jolly.
Other games by -
Walkthrough video for Halloween Doberman Escape