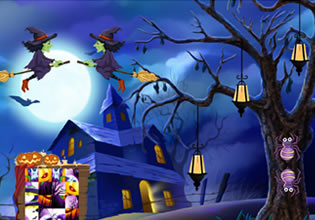 Halloween Cemetery Escape (Games 2 Mad)
It's Halloween and the forest is now open to be ventured into, it only does that once a year and now Malcolm must go there for he wants to retrieve something in the cemetery that's in the area. He just hopes it is still there, he truly hopes as well that he'll be able to escape the place after this, for nobody would wish to be in there and most especially getting trapped in it.
Escape players, imagine you are Malcolm here and ready for the Halloween adventure. Will you be able to take what you need from there and escape before your chances of doing so becomes non-existent?
Halloween Cemetery Escape is the newest point-and-click scary escape game created by 8B Games and Games 2 Mad.
Other games by -
Walkthrough video for Halloween Cemetery Escape (Games 2 Mad)