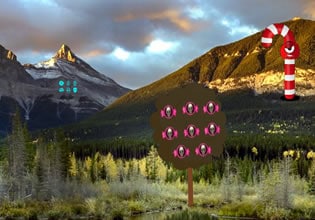 Halloween Candy Mountain Escape
Noel is having less candy that day on his trick or treating rounds, their town is getting poorer here, that's why that day Noel was pushed to abandoned his rounds and enter the area which was forbidden for everyone to go in. Noel is going to go into the area of candy mountain which was  pretty near their town. It is said that there are tons of candy there and it would increase every Halloween! Wonder why they still keep the place locked despite of that? Well Noel is a kid and he can't really comprehend the decisions of the adults, and also he does not fully understand consequences yet so he entered the place despite of the warnings.
Noel entered the area and even deeper within it then, he slowly started to see some candy and they were even giant! Noel quickly collected them and thought he is definitely going to be a celebrity back in town and he and his friends will celebrate on this. But guess those are just in his mind, for something happened there the moment he attempted to leave. Escape players, want to see what happened to Noel and if you can ever help? Go ahead then and be careful, for the place is a forest and is said to be dangerous.
Halloween Candy Mountain Escape is a new wilderness escape game developed by Big Escape Games.
Other games by -
Walkthrough video for Halloween Candy Mountain Escape