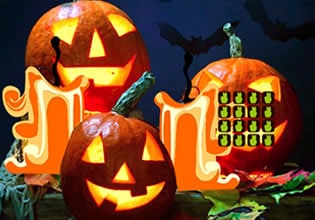 Halloween Candle Forest 26
Jack and Luna managed to retrieve this lamp which was the thing they got after they gave their previous item to this scary creature. Now what should they do with this lamp? Jack lit it up and that instantly transported them to a new place! Jack and Luna was in this house which was the creepiest that they had ever seen. Well at least for Luna, for Jack had already seen a lot of scariness in his series of tasks here. Guess this is the next place they are going to go through now?
Jack and Luna received a message from the lamp then that this new place is a devil's place! In the house there is a key which was big and very distinct looking, they'll know that the thing when they see it. Jack and Luna just hopes that this key will be able to help them to finally get home, but then they thought still that this key is just going to open another door somewhere which would lead them to another task. Escape players, want to help Jack and Luna here once again as they continue to get through tasks to hopefully eventually get home before Halloween ends?
Halloween Candle Forest 26 is a new outdoors scary escape game developed by WoW Escape. This game is a continuation of the previous one as its sequel, and is a part of the first game as the start of the series.
Other games by -
Walkthrough video for Halloween Candle Forest 26