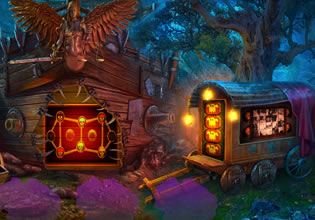 Halloween Blithe Girl Escape
It's Halloween and people are now dressing-up to look their scariest. This village here is very festive for they really decorate for this event. The sun is now starting to lower in the horizon and the party as well as the trick-or-treating can begin. But for Terrence however who was now ready to go about the place, he needs to stop for he must rescue someone first!
Terrence found this girl who was also dressed for Halloween and she is trapped inside a hidden cell there amongst the houses! The young girl was surprisingly calm and that's good, for she can hurt herself by panicking. Escape players, imagine you are Terrence here and ready to help the kid. But will your skills be enough to get her out where she is trapped?
Halloween Blithe Girl Escape is a new outdoors point-and-click rescue escape game developed by Games 4 King.
Other games by -
Walkthrough video for Halloween Blithe Girl Escape