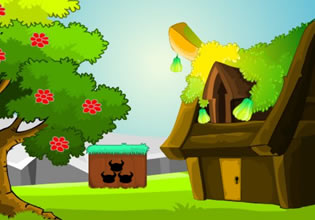 Green Snake Escape (Games 2 Live)
As Elvin stayed in this village in the forest, he was warned to be very careful with snakes for there are a lot of them in the area and they can give a nasty bite. Even in his house he was warned, he needs to keep an eye out for them wherever he goes, and thankfully he did, for in a compartment in his home there he found this green-yellow snake!
What a beautiful specimen it was, it had a distinctive snout though and it's most likely not venomous. But Elvin cannot take any chances there, he needs to coax this snake out of his place without touching it, but first he needs to get it out of the compartment. Escape players, want to help Elvin here free the snake so everything can be safe now?
Green Snake Escape is a brand new point-and-click animal escape game from Games 2 Live.
Other games by -
Walkthrough video for Green Snake Escape (Games 2 Live)