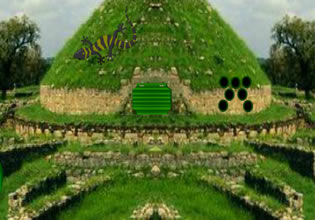 Green Forest Lizard Escape
Green Forest Lizard Escape is brand new point and click escape game released by Games 2 Rule for more escape adventures here in a lush wilderness!
A few non-endemic species of lizards just escaped into the neighboring lush forest near the facility, this is not good for there are also a lot of lizard species in the area and which can cause great impacts by crossbreeding, and because the lizard escapees are also an invasive species, it can wreak havoc to the native lizards there and even to the rest of the animals in the place. Nobody knows how the lizards escaped easily yet, but what must be done first is to get this all accounted for and then go for the search. As one of the searchers of the team, Ray must keep his eyes open and retrieve the lizards as quickly as possible, but little did he know though that he'll face more problems there in the maze-like forest.
Ray had his sights on the escaped lizard and he didn't actually realized that he had broken-off from the path and now, he is lost in the wilderness! Ray tried to get back to the main team but it seems that they are too distant now. Ray must call his search off for the moment and regroup or find himself in more danger here. Escape players, try the wilderness escape adventure with Ray and of course, keep your eyes open for the lizards. Good luck and have fun!