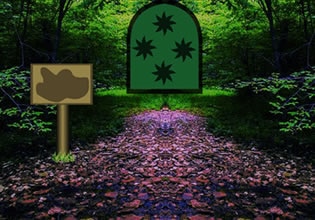 Green Density Forest Escape
The land here is very green, vast, and lush, that's why Anthony was there for he was up for another adventure into the place. This is not his first time in going there, he has been to the place many times but he knows he has not been in all areas there and there are still more locations to venture there. This place's forest is absolutely thriving here, the animals and the fauna are living in harmony. But people should be ready when they mix themselves with those though, for there are a lot of dangers still and Anthony should be alert of such. Guess he wasn't too tight with himself however, for something happened there and Anthony was the absolute victim.
Anthony got lost in the place and after he realized that he felt cornered and pressured! Anthony is starting to feel the negative effects of what he is experiencing here now, but he should not let it get to him for he is only increasing his chances of making a mistake there, and he knows very much that making a mistake in such a place are most of the time life-threatening. Escape players, come help Anthony here now as he tries to escape this wilderness, will you help him here then? Maybe get him to a familiar area there, that would be great.
Green Density Forest Escape is a new wilderness escape game developed by WoW Escape.
Other games by -
Walkthrough video for Green Density Forest Escape