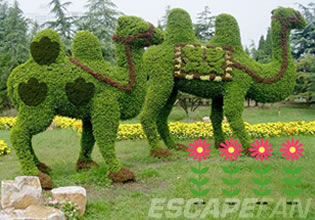 Green Animals Topiary Garden
They really did renovate the topiary park there and there were additions to the plant collections too, and those are the animal designs. Guess that modern technique they said they will be implementing actually became a success. As a person who was visiting there, Shelly can see that, but as she looked around she never thought that she would encounter a problem and also, she never thought it wouldn't be easy to solve.
Shelly got lost in the topiary garden here and she is just circling now aimlessly, but that seems to be only making getting worst! Escape players, Shelly needs help here now for she is alone there which was quite weird, will you help her then so she can get out of the place without changing her impressions about it?
Green Animals Topiary Garden is the newest point-and-click park escape game created by Games 2 Rule.
Other games by -
Walkthrough video for Green Animals Topiary Garden