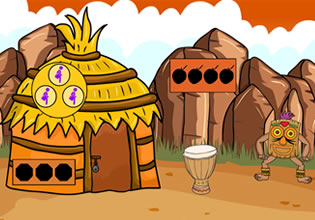 Gray Rat Escape
Cain will be living with the tribe there for a month and as he observed, they really need a cat for the rats there are a bit numerous in numbers and indeed as the chief said, they are really having some problems with them recently. Luckily though, Cain brought a trap and it really fits in catching those vermin there. And of course in no time after he set it, he captured one.
Cain now needs to break this rat out of there so that the locals can deal with it, they have a long way to go but this is a start. Escape players, want to help Cain here release the animal so that he can set his trap yet again?
Gray Rat Escape is a new point-and-click outdoors animal escape game developed by Games 2 Jolly.
Other games by -
Walkthrough video for Gray Rat Escape