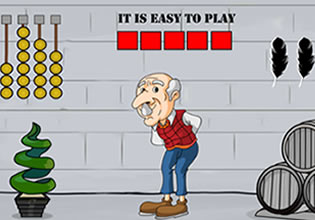 Grandpa Walking Stick Escape
Waldo was asked by his grandfather help, he doesn't know if this was a trick or a real call for help for his grandpa is one to make tests and pranks all the time. He was having a hard time trying to find his walking stick earlier, he already checked through a ton of places in the house but nothing. Waldo saw him search but now he is just standing there now asking for help.
It could be that his back is aching now and he can't go on. Well, if this is ever a great prank then Waldo is falling for it for he can't really leave his grandpa hanging there. Escape players, Waldo will now go on the search and if this is legit then he is going to need some help here. Will you be able to locate that stick anywhere in the premises?
Grandpa Walking Stick Escape is a brand new point-and-click item retrieval indoor game released by Games 2 Jolly.
Other games by -
Walkthrough video for Grandpa Walking Stick Escape