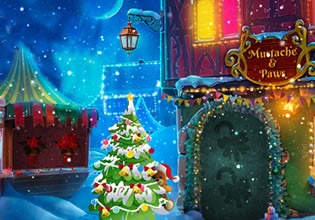 Gracious Penguin Escape
What joy this penguin brings as it roams around the village while wearing a festive wreath and hat. This is the only different penguin here, for the rest are normal and this one heralds the coming of Christmas! This creature could be one of the spirits of Christmas, but people don't know for sure though and even when they don't they still treat this one with respect. As a villager there, Luke sees this creature as well especially when Christmas time comes, but on this year's celebration though he saw it inside something and that definitely got him moving to rescue it!
Luke saw the penguin inside one of the houses there and it's one that has a door problem! It is most certainly trapped in there, but the question is why did it enter there, for this creature doesn't do that at all? Well Luke has no answer, but he can help the penguin be free though, he just hopes that he can quickly for he had tried this door before and he could not open it. Escape players, want to help Luke here on this rescue for the penguin? Carefully now so that the creature can waddle back to where it came from safely.
Gracious Penguin Escape is the newest point and click animal rescue escape game from Games 4 King.
Other games by -
Walkthrough video for Gracious Penguin Escape