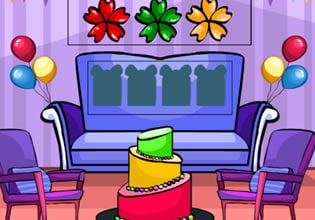 Goodbye 2021 Escape
Rene went to her friend's house that day for she will be needing help with her new year's preparation in her house. Of course Rene will give her friend a hand here for she needs it. Rene arrives at the house after a few minutes and it's weird as she was there, well that's because she could not find her friend anywhere. She got a bit confused for she was suppose to be here, but she is not. And so Rene finally decided to maybe just get out of there and wait for her outside, but that's when she realized something.
Rene could no longer get out of the house for the door was now locked! It's not just the main door, but also the back and some of the rooms! Rene thought this could be a prank or something for it really seems to be. It's not like two weird things can happen at the same time here now can it? Well if it's going to be ridiculously so, then she needs to get herself out from there. Escape players, imagine you are Rene here and you are as confused as her. Will you be able to escape the place and quickly before something else happens?
Goodbye 2021 Escape is a brand new point and click indoor escape game released by 8b Games and Games 2 Mad.
Other games by -
Walkthrough video for Goodbye 2021 Escape