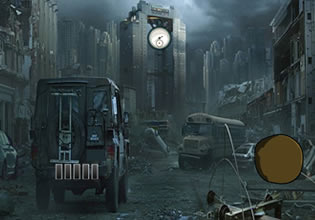 Global Apocalypse Land Escape
Astrid doesn't know anything about why this place's name has global in it, but this place is definitely abandoned and is starting to decay. That's why this place which is as wide as a big city, is also called the apocalypse land. The place is scary, well for the inexperienced at least, but Astrid have been there many times for she loves adventure. That day though, her adventure there is going to be a little different, for something happened and it's trouble!
For the first time, Astrid got lost! This has never happened to her before and she is having some real concerns about this. Right-now, she is in unfamiliar grounds and she fears she might push herself further in there. Escape players, it is starting to get dark and that adds to her problems, want to help her then so she can finally escape the area soon?
Global Apocalypse Land Escape is a brand new point-and-click scary place escape game from Big Escape Games.
Other games by -
Walkthrough video for Global Apocalypse Land Escape