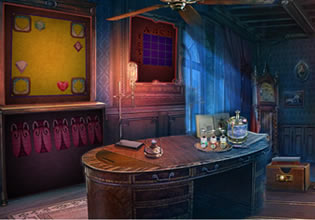 Gleeful Carrot Escape
There are vegetable people living in this village here and because they live in a very remote place, only they know and no outsider have known about them yet. Surprisingly though, the vegetable people there live well together with the humans and everything is quite fine. Well, except that day though when Ginger who is a human villager discovered that her friend carrot got trapped in his own house!
Thankfully Ginger discovered it when she was going to deliver something to his home, he is definitely trapped in there but because he was the jolly kind of individual, he was still smiling. Escape players, Ginger needs to free her friend there and she needs to do this gently for she doesn't want to hurt her friend or badly damage his property. Would you like to help Ginger here as well so her carrot friend can be safely freed?
Gleeful Carrot Escape is the newest point-and-click rescue escape game created by Games 4 King.
Other games by -
Walkthrough video for Gleeful Carrot Escape