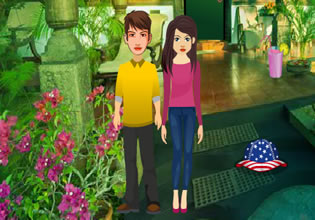 Girlfriend Surprise Gift
Try this item retrieval adventure here in the awesome beach resort. Girlfriend Surprise Gift is the newest point and click escape game created by Games 2 Rule for more dose of fun with us daily. Best of luck!
The beach resort is where Jeremy brought his girl Cassidy on their anniversary, and to make it the best one in their relationship, Jeremy even got her a present which Cassidy absolutely loved even though she hasn't opened it yet, but after a while as she placed it in their room for a moment so they can enjoy the beach, Cassidy realized that the present was missing and of course that got Jeremy infuriated.
Did somebody enter their room and stole the present? Looks like it, and Jeremy did everything so he can get it back but still no such luck, the resort's crew even helped on the search. Jeremy needs help here for that present is quite valuable not only because it was expensive, but he also put a lot of thought in it and that adds to its worth. Escape players, care to join in the retrieval adventure with Jeremy here as the two find Cassidy's present? Place yourself on the shoes of Jeremy then, keep your eyes open so you can all spot that present quickly. Have fun in the beach paradise!