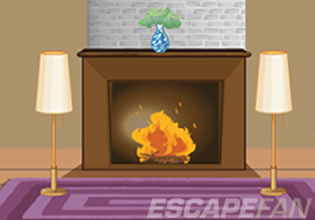 Genius Caterpillar Rescue
Wanda has this very valuable source of knowledge living in her house, yes it is alive and absolutely a genius, it is not even human and that makes this thing even more interesting. This creature is a huge caterpillar and it can talk and most certainly think! Every time Wanda has questions or need some ideas on something, she would consult this caterpillar which always has answers. That day though, this caterpillar wanted to help increase Wanda's puzzle-solving skills and that's why he will be trapped in a cage while she tries to get him out!
Wanda expects this to be difficult, for this is the caterpillar's test and it's always mind-blowing. The key to this problem was she needs to find things in the rooms of the house which can help open the cage, he will not help while Wanda solves this and gets him free. Escape players, imagine you are in the shoes of Wanda here, will you be able to get the caterpillar out then with your skills and logic?
Genius Caterpillar Rescue is the newest point-and-click animal escape game from Games 2 Escape.
Other games by -
Walkthrough video for Genius Caterpillar Rescue