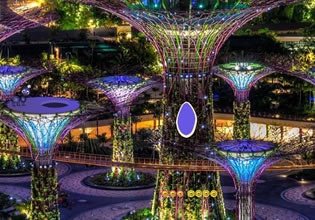 Gardens By The Bay Escape
Gardens by the bay Singapore, what a marvel of a place it is and it's really a park like no other. That day as a photographer, Gilbert was there but not because he'll take pictures of the place only, but there was a wedding photo-shoot there and he was given this job to accomplish. He knows it is going to be a long day thanks to how big the place is, but that'll be good though and he brought almost his entire gear for this.
And so throughout the day, Gilbert and the couple shot photos everywhere and it was all great! But at the last point however when the ring was suppose to be there now as a prop, they realized that it was missing and now the couple is really depressed, well that's because that ring was the one they will be using on their wedding day! Gilbert have no idea where it is, but because it was under their possession, they all need to find it and of course that includes Gilbert. Escape players, the day is almost ending now and that ring must be found quickly, you will be playing as Gilbert here now and at the moment, will you be able to find that ring somewhere so that the couple can finally breathe?
Gardens By The Bay Escape is the newest point and click item retrieval escape game from WoW Escape.
Other games by -
Walkthrough video for Gardens By The Bay Escape