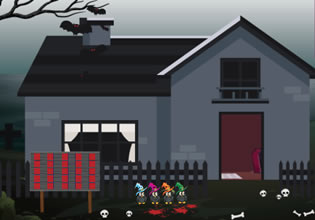 Funny Vampire Escape
John arrives in the scary area which he is a constant guest of. Beings that lives there are not normal, all are scary like witches, zombies, and vampires! Normally, people would not go there, but John still does for a vampire who lives there is actually his friend! How John made friends with one of the things that goes bump in the night is a long story, but John knows that his vampire friend other than being loyal, is quite the mischievous and naughty one. So when John arrived in his home, it is no wonder why he got in trouble there and he needs help!
John discovered his friend vampire trapped in a room in his house! What did he do this time? Well whatever happened to him, he needs to help him or he'll end-up using his supreme strength and destroy his own place. John didn't want to help fix-up the things he will be destroying, so John is going to have to free him. Escape players, come and play as John here then, help his vampire friend out from the room before he destroys things.
Funny Vampire Escape is a brand new point-and-click indoor rescue escape game from Games 2 Escape.
Other games by -
Walkthrough video for Funny Vampire Escape