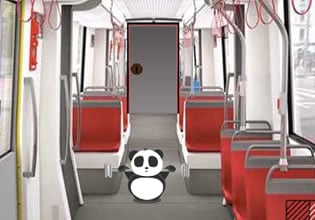 Funny Panda Train Escape
Once again, Noah enters the panda train for he is a cleaner there when the trains are being prepped to the public. Despite of the locomotive being so colorful and trendy, Noah doesn't get engaged with it anymore, well that's because he had been working in the thing for a couple of months now and everyday it's just the same thing. Still though he does a pretty good job as required for him. That day however, it's not going to be the same as before, for something seems to have happened and because of that he got into a situation.
All of the wagon doors have closed and for him it's really mysterious, for the train shouldn't have power yet but now the doors are really jammed! He can't manually open them too and he really doesn't have an answer why is this happening. Noah decided maybe he'll just find his own way out of there for as he called for help, there seems to be no one that can hear him, therefore a save might not happen for him. Besides he knows this train right? And he has a lot of knowledge about it more than just the ordinary citizen. Still though he is going to need some help and he can only get that from you escape players. Will you be able to help Noah here so he can get out of the train?
Funny Panda Train Escape is the newest point and click escape game from WoW Escape.
Other games by -
Walkthrough video for Funny Panda Train Escape