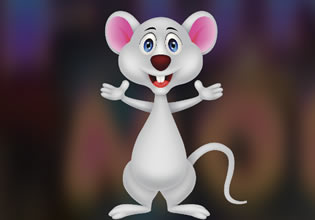 Funny Mouse Escape (Games 4 King)
The funny white mouse always gives joy to the people there in the town by sharing jokes and pulling funny pranks, this creature is simply fascinating for what it does are definitely far from any rodent can do. That day as one of the persons who is a fan of this mouse, Rommel is going to return the favor to him, for he got trapped in something and he needs assistance!
Rommel just discovered that the funny mouse is trapped, but he is trapped in a place with a complicated lock though and as it looks it can only be opened by special keys. Rommel needs to find those then but he doesn't know where to start really, and from there he is going to need some help. Escape players, will you be that help Rommel needs so he can get this entertaining mouse of the town out from where he is trapped?
Funny Mouse Escape is the newest point-and-click rescue escape game from Games 4 King.
Other games by -
Walkthrough video for Funny Mouse Escape (Games 4 King)