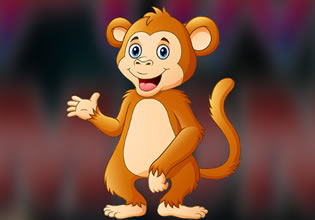 Funny Monkey Escape (Games 4 King)
There is a funny monkey living together with the people in the village here, he is good and entertaining even intelligent for it can understand human speech and communicates back through sign language. Everybody loves this monkey for it is gentle, the children loves him most especially. That's why that day when Hugh discovered him in trouble, he immediately thought of the people whom he made happy, so even though he doesn't care for he is kind of a gloomy type of person, he pushed on to the rescue.
This monkey is trapped in a house there and the creature was making sounds for he needs help! Hugh wondered why nobody came to his rescue, might be that he just got trapped the moment he passed by? That could be, but now he is going to get him out of there and quickly. Escape players, imagine you are in the shoes of Hugh here, will you be able to get the monkey out of from where he is trapped? Do this gently then for he might get hurt there.
Funny Monkey Escape is a brand new point-and-click animal rescue escape game released by Games 4 King.
Other games by -
Walkthrough video for Funny Monkey Escape (Games 4 King)