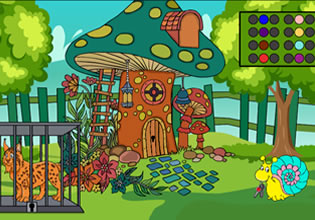 Funny Lynx Escape
Adam have been seeing this wild lynx which has a funny look quite recently near his home, he usually sees it deep in the forest when he goes hunting and he knows it is the same lynx, for its looks are distinct. That day when Adam was following the trail heading deeper into the land, he found the same lynx and it is trapped inside a pig trap!
Adam definitely saw this as an accident, he knows the owner of this trap and he knows what to do if something like this happens. Adam decided to free the lynx and set the trap again, he needs help on this though so he can be careful and not damage the thing. Escape players, would you like to help Adam on this so that he can free the wild cat?
Funny Lynx Escape is another new point-and-click animal escape game made by Fastrack Games.
Other games by -
Walkthrough video for Funny Lynx Escape