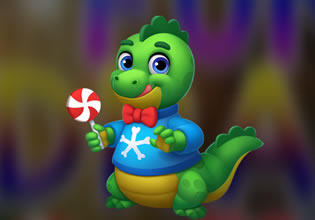 Funny Dragon Escape
Animals in the village here are different but fascinating, some are mythical and those are treasured by the people for there are not much of them nowadays. One of those mythical creatures makes the people there happy and joyous, for this one is a funny dragon and it likes to pull jokes which everyone can relate. But that day it needs help though and as the villager who noticed it first, you quickly responded.
The funny dragon is trapped in a house there! What was it doing there anyways? The place is not even its home. Well, whatever it is doing there you still must help, for you are already there so you will. Escape players, you are now the dragon's rescuer here and the question now will you be able to get it out with your skills and logic?
Funny Dragon Escape is another new point-and-click rescue escape game made by Games 4 King.
Other games by -
Walkthrough video for Funny Dragon Escape