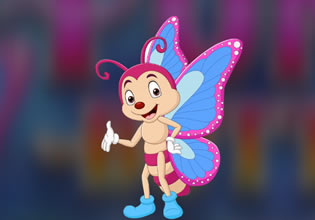 Funny Butterfly Escape
There is this mystical butterfly living in a huge tree just near the town, this butterfly might look delicate but it is very much not, for fascinatingly it is a warrior and it uses both its skills in magic and hand-to-hand combat. This butterfly was even friends with the king for he once asked for its services on a very important battle. As a resident in the town, Hugh never really thought he could meet this butterfly in the face let alone rescue it. But that day he will!
Hugh just found the butterfly trapped in one of the structures there in the town as he was cleaning that day! He never expected this of course, but his instincts kicked-in and the first one on him was to try and rescue the butterfly. Escape players, Hugh has no idea how he will do the rescue for he doesn't know the structure there. Okay then, will you help him so that the butterfly can get out and go on with its daily life?
Funny Butterfly Escape is a brand new point-and-click rescue escape game released by Games 4 King.
Other games by -
Walkthrough video for Funny Butterfly Escape