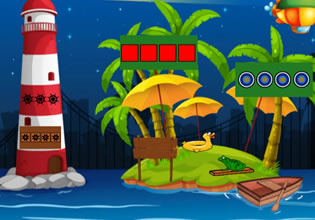 Fisherman Rescue From Hut
This place here is where everyone travels by boat, it is a nice place actually, but it has its share of difficulty though for dry land is kind of scarce in this place. As a resident there, Stephen planned to be on his boat and visit some of his friends for the day and at the moment, he is even on the island of this old fisherman for he just wants to check on him today. But as he knocked on the door of his fisherman friend's house though, he immediately heard him call for help!
Stephen was startled then but he collected himself, he needs to help! And after he found-out that the guy had been trapped in his place for a couple of hours, it made him move even quicker. Escape players, Stephen here needs a hand as well for he doesn't know where to begin in freeing his friend here. Would you like to help-out then?
Fisherman Rescue From Hut is another new point-and-click house rescue escape game made by Games 2 Jolly.
Other games by -
Walkthrough video for Fisherman Rescue From Hut