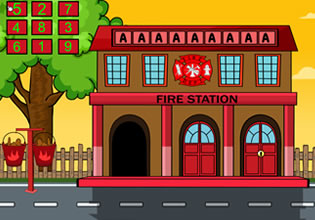 Firefighter Rescue
The entire fire-fighting crew is now responding to this big fire in the city, but Rodney who is a part of the crew must stay in the station though, for another one of their crew member was trapped there!
Rodney was already trying his best to free his fellow fire-fighter, but it's really weird why the door would not open and he is very close to destroying the door now. But he can't do that for there might still be a chance to free him without damaging anything there. Escape players, imagine you are Rodney in this situation, will you be able to free your friend and fellow fire-fighter from being trapped here in a room in the station? Find tools that can help then and most especially that key to the thing.
Firefighter Rescue is the newest point-and-click rescue escape game created by Games 2 Jolly.
Other games by -
Walkthrough video for Firefighter Rescue