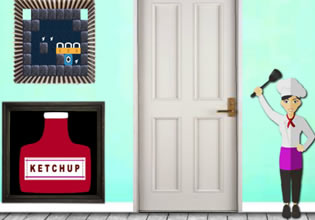 Find Watermelon Slice
Your friend Dory finally have this very special fruit in her possession and it is so special and expensive that she was only able to acquire one slice. This fruit Dory was possessing is a very special watermelon and it's only a slice which she won in a fruit action. She was not really happy to do this alone though so she decided to have you over so you can have a taste of it with her.
As you arrive at the house, Dory was there trying to open this door and she was really fixated with that. What was she doing? Well, it's actually her watermelon slice and it's inside this room which she couldn't open for the door is locked! Dory couldn't find the key actually, that's the problem. Okay then, you are going to help your friend Dory here escape players, find the key to this door so that you can both get to this special watermelon in there.
Find Watermelon Slice is the newest point-and-click indoor item retrieval game created by 8B Games.
Other games by -
Walkthrough video for Find Watermelon Slice