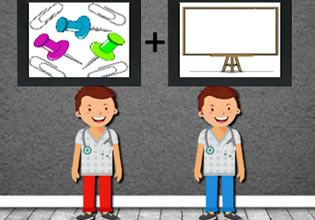 Find Vitamin Bottle
Camille just arrived at her friend's place for that is their yearly year-end ritual because they now live far apart from each other. Camille arrives at the house and she found her friend then not really relaxed. She continues to talk to her and her friend is just roaming around the place trying to find something. Eventually Camille asked what was up, she then replied she was trying to find these bottles of vitamins so she can go give them to her friend.
Camille told her friend then can they just sit and talk for now and find those later? But she insisted and that's why eventually Camille was swayed to just help her find those. Escape players, will you help Camille here find those vitamin bottles somewhere in the house?
Find Vitamin Bottle is a brand new point-and-click item retrieval escape game released by 8B Games.
Other games by -
Walkthrough video for Find Vitamin Bottle