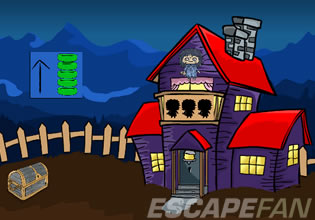 Find The Zombie Birthday Cake
Orv got invited at his friend zombie's birthday party and every zombie in the area will be coming too. Yup, this place is not really normal and that's why it is a secret. As Orv arrives at the venue which was in one of the creepy houses there, he saw that the zombies were not really jolly, well why is this so? The reason was somebody messed-up and now the birthday cake is somewhere they have no idea. And because they are all too slow and shambling, they really can't be in a haste to find that thing.
Okay now, Orv is actually a human here and because he is a friend of the zombie birthday-boy, he is safe from the dead's urges there. But because he is a human, he can greatly help here! Escape players, you will now be playing as Orv here, will you be able to find that birthday cake somewhere so that this birthday here can be a little more happy for everyone especially the celebrant?
Find The Zombie Birthday Cake is the newest point-and-click item retrieval game from Games 2 Jolly.
Other games by -
Walkthrough video for Find The Zombie Birthday Cake