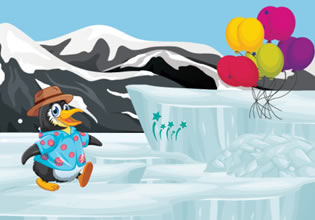 Find The Skate Board For Chilling Penguin
Your penguin friend has all the luxury to have fun with you as you and him live in the snowy mountains in a simple house there. You and your friend do all sorts of activities there everyday and for the day, you will be going snowboarding for the snow was quite thick today. But that cannot be done at this moment though, for your penguin friend is missing his board!
When you realized this, you immediately shifted your focus in finding that board for you all really can't go on snowboarding if one of you doesn't have a snowboard. Escape players, you are in the situation here now and you really have no idea where that snowboard of your friend's is. But will you be able to find it somewhere so you can both slide together in the snowy slopes today?
Find The Skate Board For Chilling Penguin is a new point-and-click item retrieval snowy outdoors game developed by Games 2 Escape.
Other games by -
Walkthrough video for Find The Skate Board For Chilling Penguin