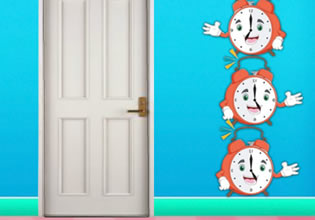 Find The Running Clock Toy – Race Against Time
The items in Pete's house are all magical and they have each and every unique talent which he appreciates. But there was this one he is most careful of and that day, it activated its talent and hid inside a room there!
The one that did this was a walking and talking clock! But that's not its talent though, for whenever it sets its countdown Pete must try and stop it for if he doesn't before the time in his timepiece ends, then it'll explode. Pete have always caught this clock of his before it goes off, but this time it hid in a room in the house here and time is running out! Pete doesn't have time for anything now, he needs to get his clock and stop it before it goes off. Escape players, want to help Pete here with this? Quickly or this could be the end of everything here in this place including him.
Find The Running Clock Toy – Race Against Time is a brand new point-and-click item retrieval indoor escape game released by 8B Games.
Other games by -
Walkthrough video for Find The Running Clock Toy – Race Against Time