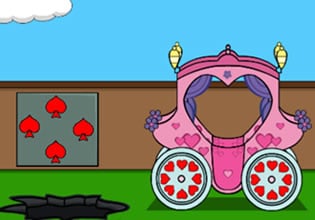 Find The Princes Crown
A warning from the senior officer of the old castle here had been issued, it is a grave one for the princess royal crown is now missing! It could have just been misplaced or potentially stolen, nobody knows and nobody wants to jump into conclusions, but all man in the castle have already been mobilized and that includes Darius who is a castle guard there.
Darius got the info and they all began their search in the castle, that thing is very valuable and can be used as a hostage in exchange of something, that's if it ever fell into the wrong hands. Darius must do his job here now and he has the advantage for he knows every inch of this castle because he has a photographic memory. He'll know where to go and where he haven't checked yet, that's why his chances of finding it here are high if it ever is just missing. Escape players, you will now be helping Darius here for as gifted as he is, he still needs extra hands. Will you be able to help Darius find that crown somewhere here in the castle and quickly before somebody untrustworthy finds it first?
Find The Princes Crown is the newest point and click item retrieval escape game created by Games 2 Jolly.
Other games by -
Walkthrough video for Find The Princes Crown