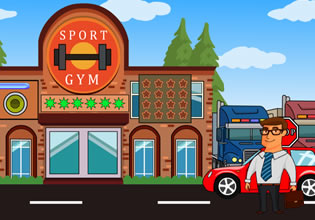 Find The Officer Kar Key
Drake had just finished his gym session and now he needs to be leaving or he'll be late for work. But there seems to be a problem though and it is really keeping him from going. He can't find his car key and of course he cannot access his car without that thing.
Escape players, Drake has a hunch that his car keys are in his locker back at the gym, if it's not there then he fears for the worst for it might have fallen from him somewhere he doesn't know. He just hopes he'll find it, for he really doesn't have time for this. Will you help Drake on this so he can finally leave and most importantly not get late?
Find The Officer Kar Key is a brand new point-and-click item retrieval escape game from Games 2 Jolly.
Other games by -
Walkthrough video for Find The Officer Kar Key