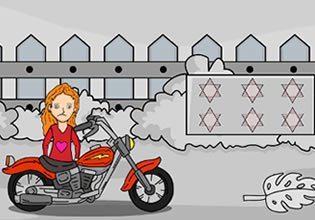 Find The Girls Helmet
You stopped your girl Rica for she forgot to put-on her helmet as she went on her scooter. But that's the problem though, for she couldn't find it and she just left it to fate as she goes to the city!
This is really not an option to you escape players, for safety is your priority especially for your girl Rica. Escape players, you need to find that helmet somewhere and it could be anywhere in the house, so you must begin now for clearly Rica is in a hurry there. Will you be able to find that helmet so she can finally go with safety in her person?
Find The Girls Helmet is the newest point-and-click item retrieval escape game from Games 2 Jolly.
Other games by -
Walkthrough video for Find The Girls Helmet