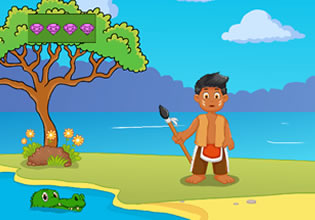 Find The Feather Crown
The tribe here is ready for another hunt and as one of their hunters, Tormac is going to need that blessing from the chief and the shaman there, and also wear his feather crown which he is having a hard-time trying to find and he can't really go without it!
Tormac is now waiting at the edge of their settlement for he has given-up in trying to find his crown, he had been trying to find that thing everywhere but he saw not a hint of it in the place. Escape players, every man to hunt is another hope that the tribe here will survive, so Tormac must go along with the other men who already went ahead of him, but he can't go without his feather crown though so will you help him find it?
Find The Feather Crown is another new point-and-click item retrieval game made by Games 2 Jolly.
Other games by -
Walkthrough video for Find The Feather Crown