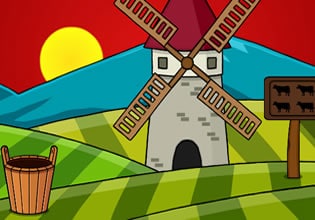 Find The Farm Tractor Key
Reynold will now begin his chores in his farm and he should start now for there are a lot to do there. But it seems that something is stopping him though and it's so significant enough that it's preventing him to progress!
Reynold was to plow the fields with his tractor, but he cannot even get his tractor running for the key to the machine he cannot find. Reynold is really trying to remember where he put it, but he can't recall. Escape players, Reynold here is wasting daylight even when the sun is rising from the horizon, that is how farm-life is so will you help him find his tractor keys here so he can begin his day? Check the house or the barns there across the field.
Find The Farm Tractor Key is the newest point-and-click item retrieval escape game from Games 2 Jolly.
Other games by -
Walkthrough video for Find The Farm Tractor Key