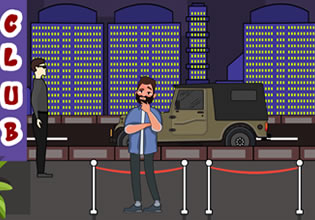 Find The Club Ticket
Chris have just lost an item which was important to him for the night, for as he was about to enter the club he realized he has lost his club ticket and now he is standing outside pondering what he needs to do. Chris got nothing and he really needs help there now.
Escape players, finding that ticket of his is close to impossible now, that's why he needs to stick to a new plan which has a higher possibility of success. Okay then, will you have a way for Chris there so he can enter the club? Maybe get him another ticket or something which he can purchase from someone? See to it that your way works or Chris will have a bad night out in the city.
Find The Club Ticket is another new point-and-click item retrieval game made by Fastrack Games.
Other games by -
Walkthrough video for Find The Club Ticket