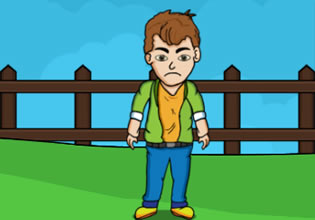 Find The Boy Mobile Phone
Tourists can come in this farm here for it is open to the public to learn and to be hands-on. As one of the farm boys there, Barry still has a lot of work to deal with despite of tourists providing temporary help for learning, well that's because he is a resident and he should be one of the supervisors to the tourists there. But that day however, some kid needs help with a different thing, and that is he lost his phone somewhere!
Guess somebody didn't pay much attention to the rules here that phones are not allowed in the farm area, for happenings like this is not really uncommon. Still, Barry must help for he can't just leave this kid with his problem. Escape players, you will now be playing as Barry here now, will you be able to find this kid's phone somewhere in the farm houses and facilities there?
Find The Boy Mobile Phone is another new point-and-click item retrieval game made by Games 2 Jolly.
Other games by -
Walkthrough video for Find The Boy Mobile Phone